Driving Lessons in Torbay with Bay School of Motoring.
---
Block of 10 Lessons £34.00 per hour.
Students or Unemployed £35 per hour.
Employed or Self Employed £36 per hour.
To get this offer, simply book your first block of 10 Driving Lessons with Bay School of Motoring.
Get more tuition for your money and be one of our many students who Passed First Time!
CONTACT US TODAY TO BOOK THIS OFFER
Available on your first block booking of 10 hours only.
---
If you are looking to Pass your Driving Test …

'Learn the bay way'
A Torbay & South Hams based Driving School
offering Driving Lessons tailored to your needs.
Pass Your Driving Test with confidence and Learn to Drive around Torbay & the South Hams, (Including: Torquay, Paignton, Brixham, Marldon, Totnes, Kingswear, Dartmouth and Newton Abbot.)
By Learning to Drive with a professional Driving School Instructor you ensure that you get the best Driving Tuition on offer. Each student will be given a Driving Lesson structure to suit the individual needs and every Driving Lesson will aim to teach you new driving skills whilst developing your road sense and highway knowledge.
Our Driving School covers Torbay & the South Hams including: Torquay, Paignton, Brixham, Totnes, Marldon, Kingswear, Dartmouth & Newton Abbot.
Our Driving Instructors have a great local knowledge and cover all the Driving Test Routes to ensure you receive the best Driver Training possible at all times. You will be prepared for every eventuality when you take your Driving Test to give you the best possible chance of first time success!
Drive yourself forward with the Pass Plus Scheme
here at Bay School of Motoring.
Once you have passed your Driving Test you will be qualified to 'go it alone' on the roads. We offer the more advanced Pass Plus scheme which is designed to help New Drivers become Better Drivers. You will also be eligible to receive Discounted Car Insurance which is a great bonus for Learner Drivers in times when money is scarce and insurance costs are higher than ever.



Driving Lessons start from only:
Block of 10 Lessons £34 per hour.
£35 per hour for students in full time education.
£36 per hour if you are in employment.
So call today FREE on 08000 30 50 68 to Start Driving Now!
Bay School of Motoring offer a 'door to door' service so you will always get the most out of your Driving Lesson.
We ensure driver training is a relaxed and enjoyable experience. With our instructors taking time to get to know you so they can tailor the lessons to help you develop your Driving Skills, enabling you to pass your test.
If you are 17 or over, no matter how old or how young, from your first lesson through to completing your test, Bay school of Motoring will always be there to offer friendly and helpful advice.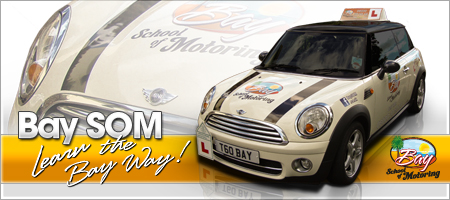 ---
How do I start ?
Its easy to start your Driving Lessons! Just fill in our enquiry form here or book your lessons on line now.